Underground Sprinkler Systems
Wilson Water Systems is a reliable family-owned and operated business since 1952. We offer expertise and personalized services regarding all areas of yard-watering systems.
At Wilson Water Systems, we pride ourselves on the quality of our work and provide prompt friendly service for each of our customers. We want our customers to stay with us! "Customer satisfaction is the foundation on which a company can grow, and it is our best form of advertisement."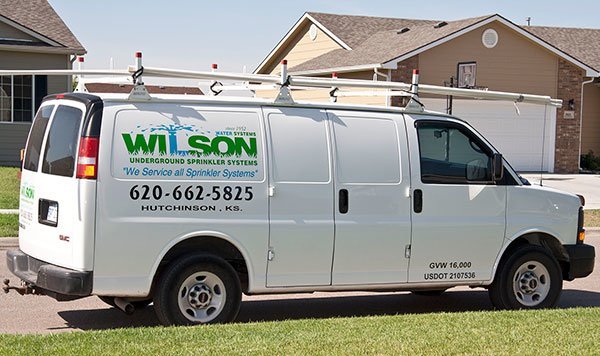 You can count on Wilson Water Systems of Hutchinson, Kansas to help you maintain your home or business' underground sprinkler system. Below are some of the professional sprinkler services Wilson Water Systems offers:
Irrigation Design
Custom Designed Sprinkler Systems That Provide Precision & Efficiency.
Sprinkler Installation
From Start to Finish, We Do It All. Design & Install
Sprinkler Maintenance
Spring Start Ups & End of Season Winterizations
Back Flow Testing
Certified Back Flow Tester. Keep Your Water Safe.
Install Water Pumps
Pumps Don't Last Forever, We Install New Replacement Pumps.
Timer Controls
Take Control of Your Sprinkler System. We Install User-Friendly & Reliable Timers.
Sprinkler Repairs
Evaluate & Resolve Sprinkler System Problems. Adjustments, Leaks, Repair & Replace.
Contact us for your Hutchinson sprinkler system needs, 620-662-5825.
We strive to provide complete customer satisfaction by delivering professional quality underground sprinkler system work at competitive rates.